Huh?
The boys are talking game plot, and I'm having one of my ADD moments, which means I can't stay still, and I
certainly
can't pay attention to what they're saying.
I sometimes think about getting tested for adult-ADD, but I think I'm just overreacting. And not having medical insurance means I can't do squat right now, anyways...
I've just realized that I don't have a recent image of myself that I'm willing to share online as a likeness. Every picture I've got online is from Y2K or before. Is this because I'm too vain to allow myself to have been photographed during my recent blimping? Or am I just too used to being behind-the-camera to remember to get in front of it at times? Well, L1 has offered to do another photo-shoot on Mt. Diablo this summer, if I'm feeling skinny enough. That might be enjoyable, but I'm
not
going to wear a corset in a bramble thicket in 95 degree weather again! And, this time, his bloody camera had better work!
How in hell did
this
happen? I much preferred the #2 answer -
Rocky Horror Picture Show
.
Labyrinth
is alright and all, but it's so
insipid
at times... Although - no offense, husband o'mine - I wouldn't mind having the Goblin King hanging around at times...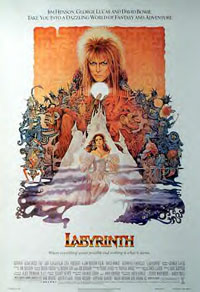 You're a dreamer at heart and have a great looking Goblin King. You are everybody's favorite, but most won't accept you.
What movie are you?
made by
jupluna